Janice Koehn
Last updated: August 2021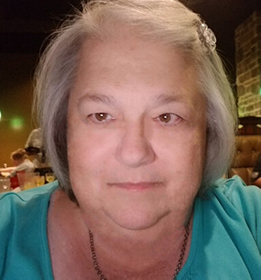 December, 2008 I was diagnosed with myasthenia gravis. My symptoms began Thanksgiving Day. My first noticeable symptoms were difficulty breathing, blurred vision, & droopy eyelid. I had been to the E.R., then referred to my primary care physician. She immediately sent me to a different E.R., to which they admitted me to the hospital. I was there for about a week & was finally diagnosed with myasthenia gravis, hypothyroidism, & asthma. While in the hospital, I experienced several other symptoms, such as double vision, inability to swallow, inability to speak, weakness in my extremities & neck. It was a frightening time.
I was put on treatment, but the prednisone I was taking made me blow up like a blimp! Not only was I suffering with the horrendous weight gain, but I felt hideous because my appearance was worse than ever. The stares you get when you look different are enough to make you never want to go out in public again, but I did. Afterall, my weight gain was medically induced.
After a time, I also tried the IVIG treatment, which didn't help either. Finally, after about a year & a half, I found the medication that worked for me. It took quite a while to be weaned off the prednisone, but once I was, I lost about 100 pounds of fluid. I'm still trying to get the rest of it off, but I'm slowly winning that battle, too.
Since I found the right medication for me, I've done so much better & for the most part, I can lead a fairly normal life. I still have a few minor symptoms of myasthenia gravis from time to time, but thankfully, I'm living my life to the fullest! I'm in a power chair, partially due to the myasthenia gravis & partially due to my lumbar stenosis. That said, I garden, spend time & play with my grandchildren & great grandchildren, cook, & I do my housework. I even vacuum from my chair. I'm only limited by places where a powerchair can't go.
I worked with Girl & Boy Scouts & 4-H for many years. I was an emergency room & surgical nurse for well over 35 years. I loved my work. My goal was always to help people in any way I can. I loved working with children & working in the medical field all those years.
I'm lucky to have a family that is & was very supportive of me. I also found a neurologist that worked with the Muscular Dystrophy Association & was very familiar with all the muscular dystrophy family of diseases.
I have 4 children of my own, 7 grandchildren, & 6 great grandchildren. We are originally from Kansas, but have lived in Tennessee for the last 35 years, except for a few years in Colorado & Florida. While my husband was in the military, we also lived in California & North Carolina. We've seen a lot of the USA & loved traveling. We don't travel so much anymore because of our age & medical conditions, but we love remaining as active as we can be.
Click here to read all of Janice's articles on Myasthenia-Gravis.com.