Joan Glenney
Last updated: August 2021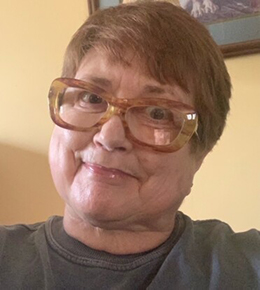 Joan Glenney was diagnosed with myasthenia gravis over 50 years ago at the age of 15. She was blessed to have been referred to a wise and trustworthy neurologist who guided her through this often difficult journey.
She completed high school with her class and went on to earn a bachelor of science degree from the University of Connecticut. Joan returned to UConn to pursue a Master's of Social Work (MSW) degree, after raising two healthy children who were then in junior high.
The focus of her career from early on was working with people with chronic illness. This included adults with difficult-to-manage autoimmune conditions as well as with children on the autism spectrum. She completed a year-long post-graduate clinical fellowship at Yale University's Child Study Center. This offered expansive educational and hands-on opportunities for continued learning where she studied the effects of chronic illness on children and their families.
It allowed her the ability to pass clinical boards and become a licensed clinical social worker (LCSW), who worked in many areas, including schools, clinics, adoption services, hospitals, or providing private therapy for those in need.
Her myasthenia went into an almost full remission about 25 years post-diagnosis, improving greatly after thymectomy. Respect for myasthenia itself was always paramount on her journey. She found that working with myasthenia allowed the best path to health as one might achieve.
Joan went on to teach Principles of Clinical Medicine at the University of Connecticut's Medical School, offering medical students a psycho-social approach to patient care.
She returned to the Yale Child Study Center to provide clinical supervision for post-graduate fellows. Joan spent over twenty years working part-time with difficult to manage and non-compliant type one diabetics. She retired in 2018 after fully enjoying her long career as a social worker.
Click here to read all of Joan's articles on Myasthenia-Gravis.com.