Myasthenia Gravis Diagnosis: Still Seeking Answers
Last updated: August 2023
We know that myasthenia gravis (MG) affects everyone differently. From the range and severity of symptoms to specific MG triggers, each person's experience is unique. This can make the diagnosis journey especially difficult, often leaving people with more questions than answers.
In the 1st annual Myasthenia Gravis In America survey, 600 respondents opened up about their diagnosis journeys, relationships with their doctors, questions they still have about the condition, and much more.
Finding the right diagnosis
It can be hard to get a correct diagnosis. Many people are misdiagnosed with another condition before arriving at a diagnosis of MG. Others are correctly diagnosed with 1 or more other conditions before finally getting an MG diagnosis. Regardless, this process can be challenging and tiring.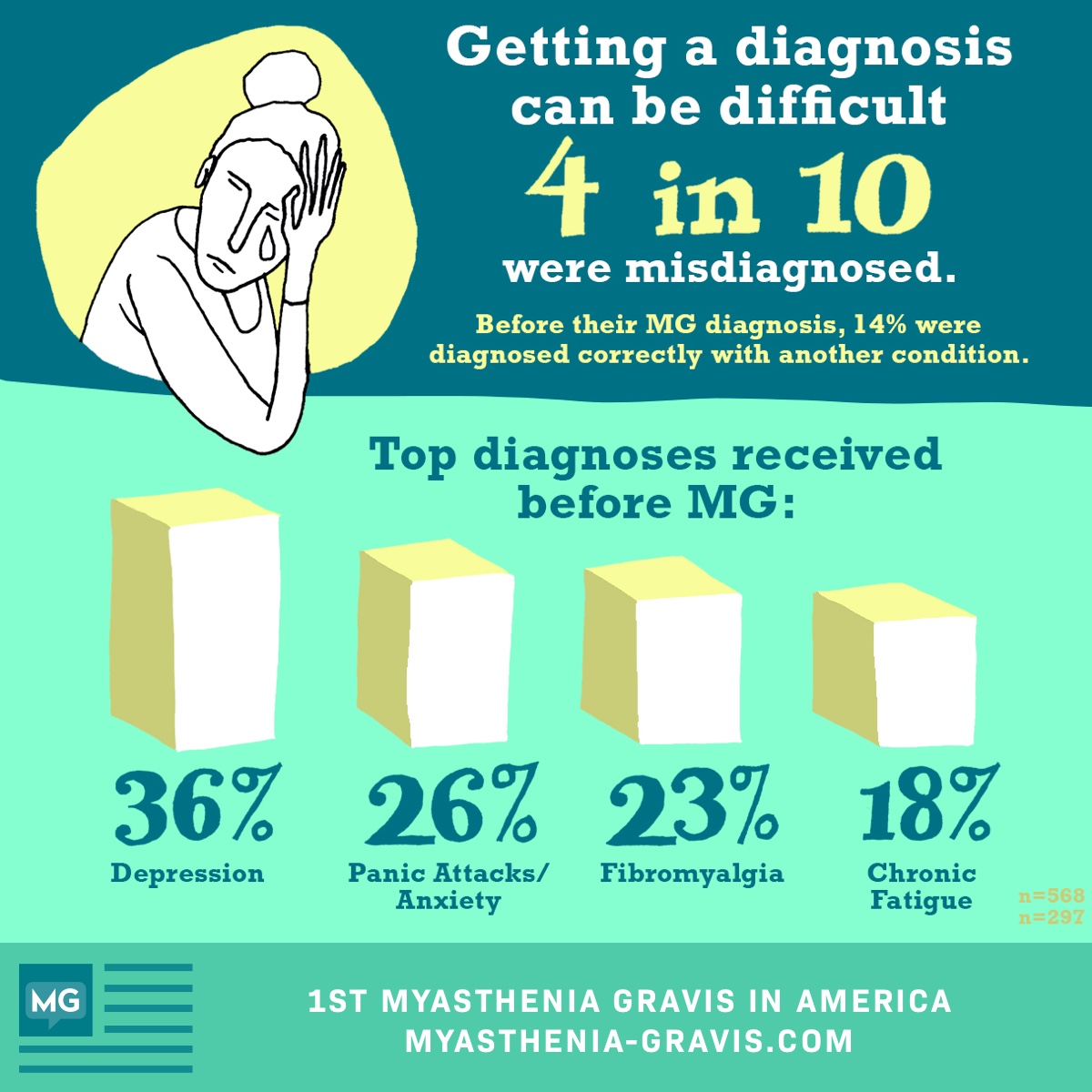 Doctors for MG
The symptoms of MG can affect different areas of the body, from the muscles of the eyes, neck, and throat to the arms and legs. It can be a challenge to figure out which doctor to see, especially when symptoms come and go.
On average, people with MG reported seeing 2 healthcare providers (HCPs) to obtain an MG diagnosis. Neurologists were most commonly seen to diagnose MG.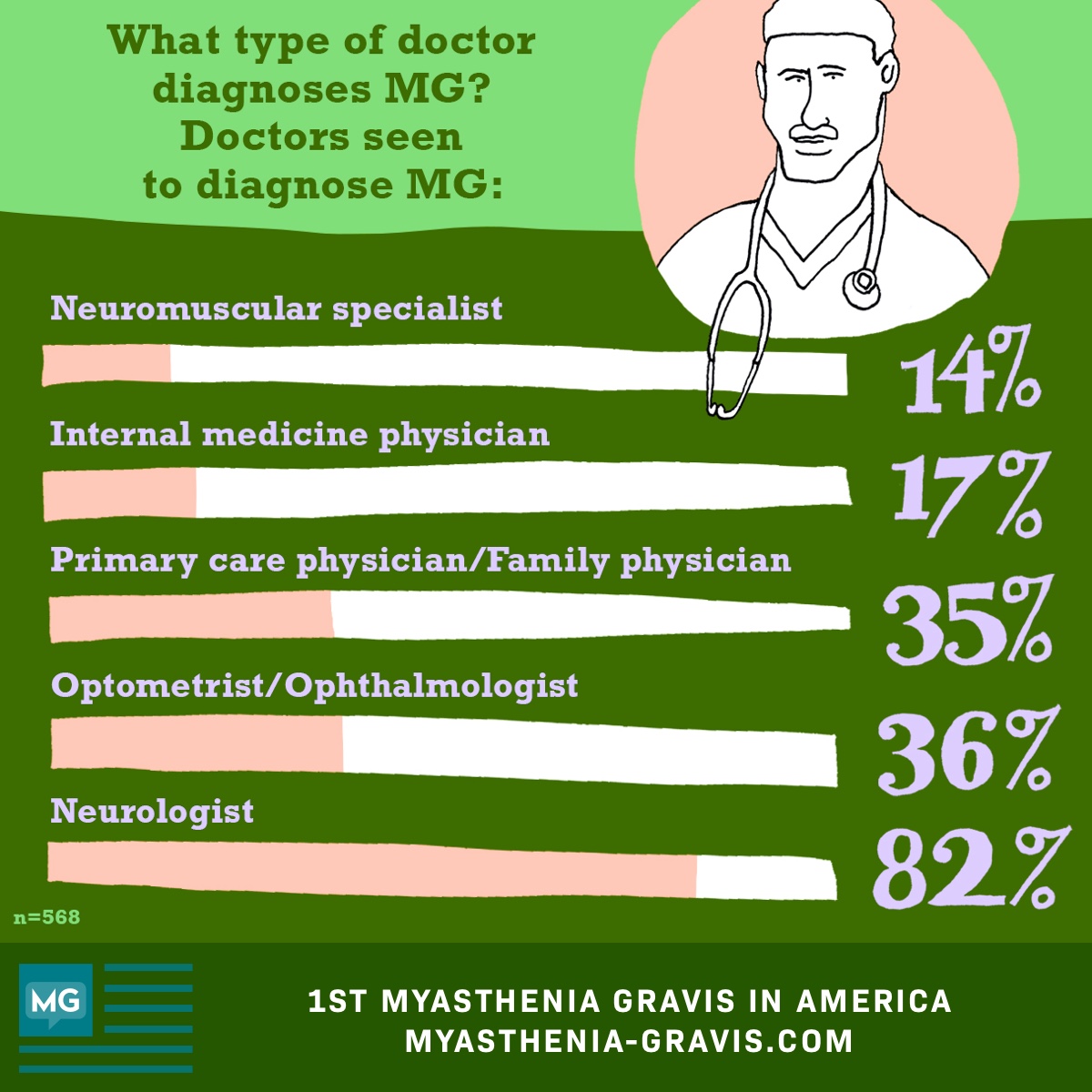 Knowing the antibodies
Blood tests are used to show whether the body is making antibodies that are common in people with MG. Knowing the antibody type can help doctors decide on the best treatment option. While some respondents indicated their MG antibody type, 44% reported that they are not sure or do not know their antibody type.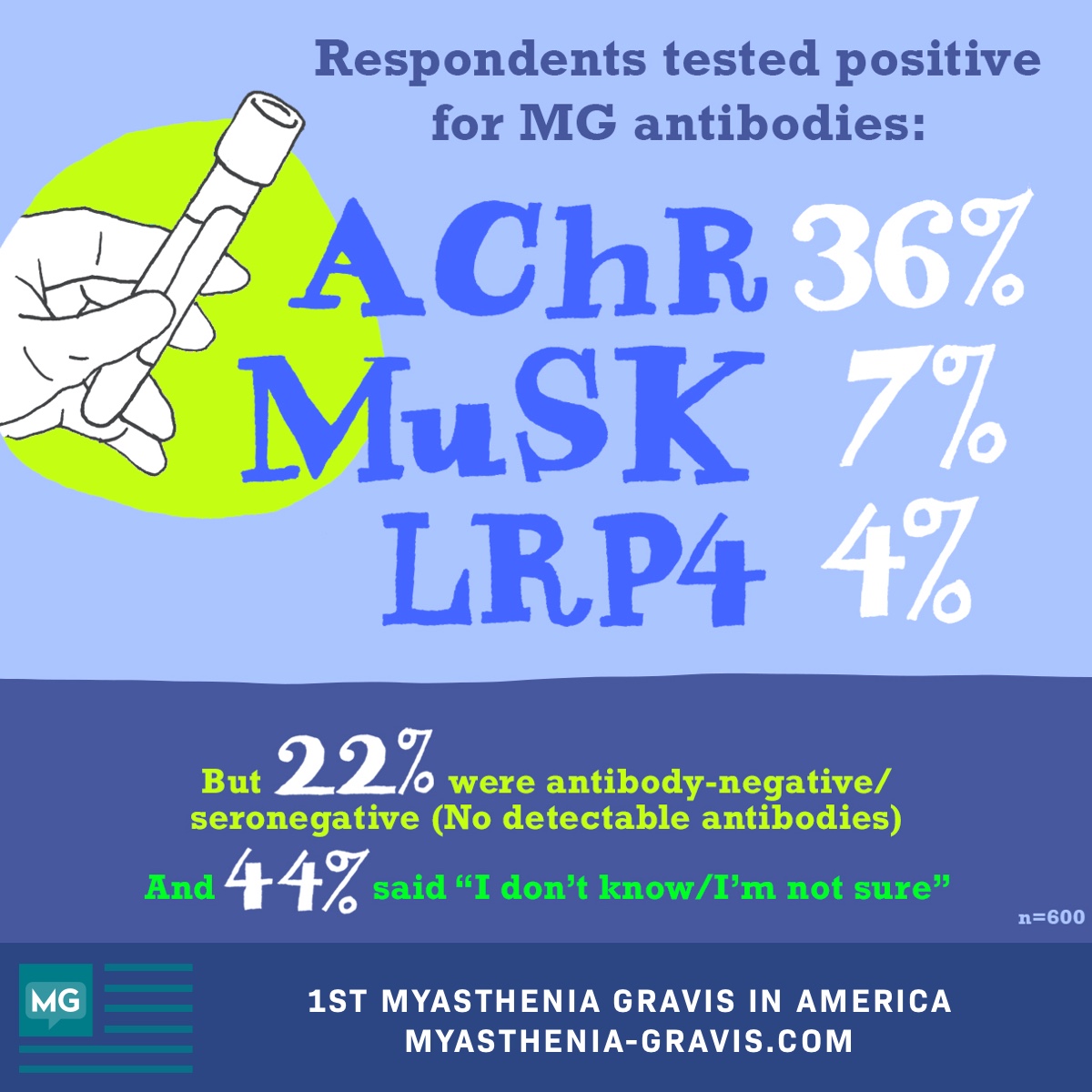 Relationships with healthcare providers
Myasthenia gravis can be unpredictable, and there is currently no cure for the condition. A diagnosis can lead to feelings of uncertainty and questions about the progression of the condition.
Finding the right doctor can help you prepare for the future with MG. While many people reported their HCP provides excellent overall care, only 48% felt their HCP gave them a sense of what to expect in the long run.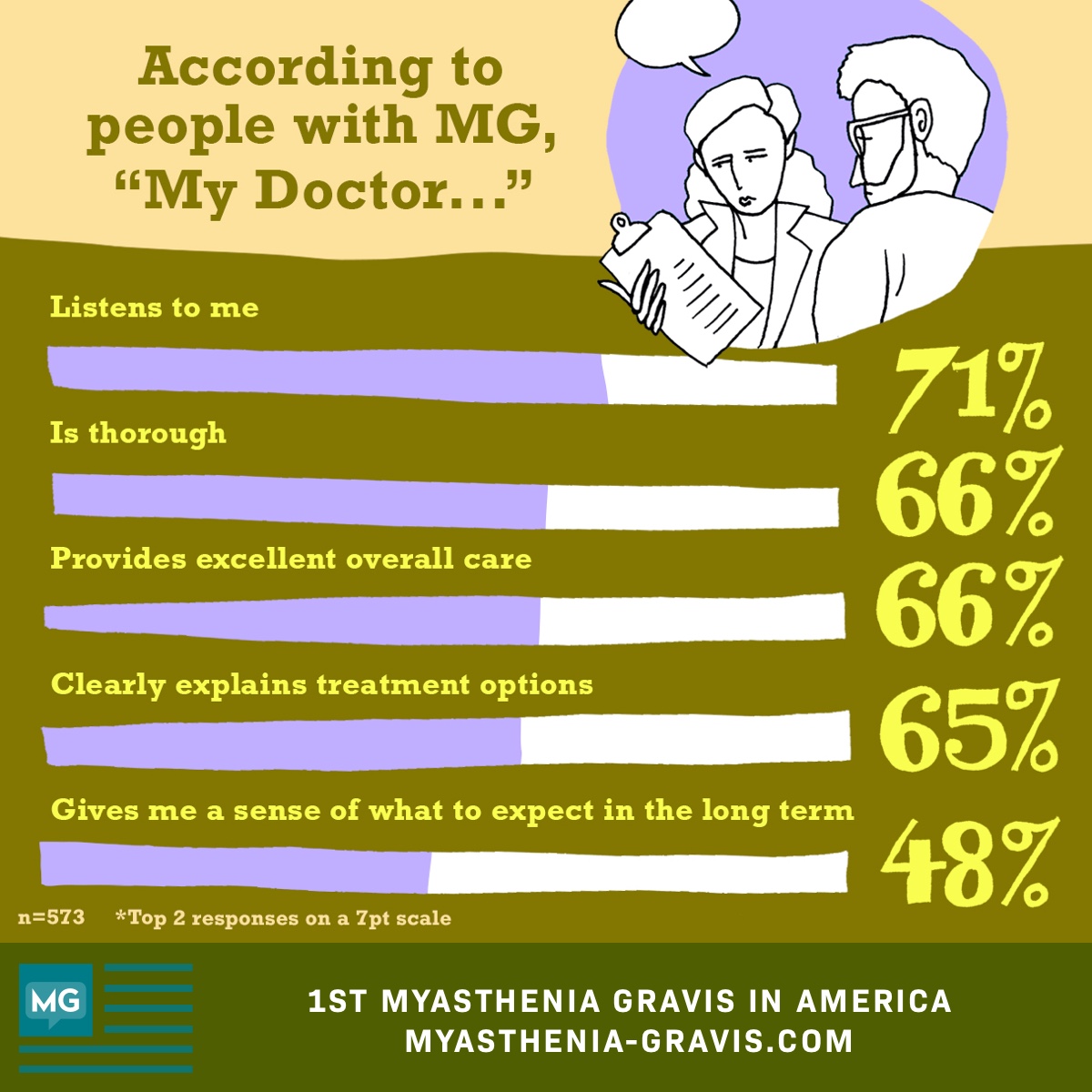 Still seeking answers
Even after a diagnosis, many people with MG still have questions about the condition. While a diagnosis can provide relief, some respondents told us they have the same questions they did at the time of diagnosis. Many are still seeking answers about treatment options, impact on quality of life, and more.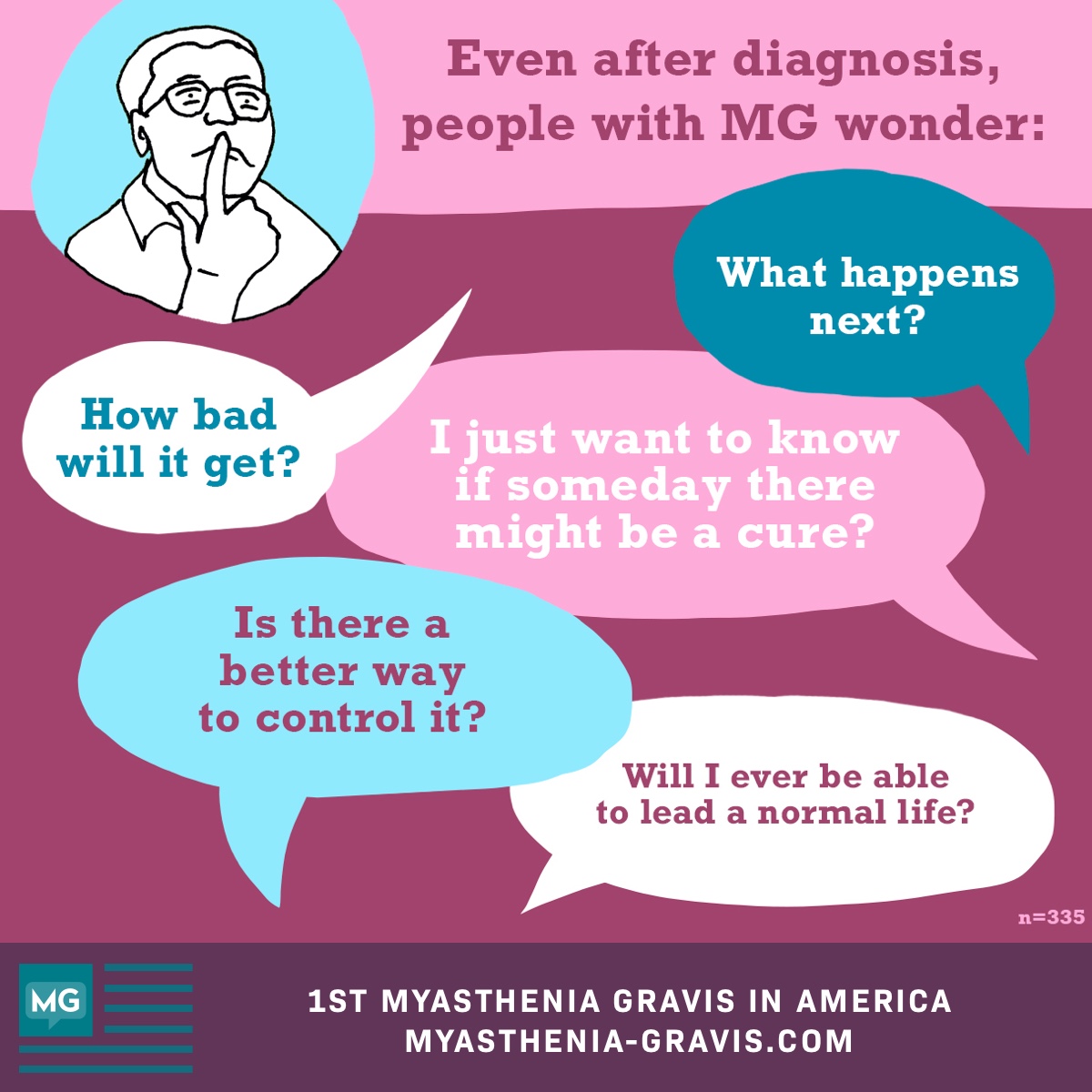 The MG diagnosis journey can be frustrating and even isolating at times. If you are struggling with the uncertainty of myasthenia gravis, you are not alone. We have a supportive community right here at Myasthenia-Gravis.com.
The 1st Annual Myasthenia Gravis In America survey was conducted online from October of 2020 through February of 2021. The 600 people who completed the survey were people who have been diagnosed with myasthenia gravis or are in the process of getting an MG diagnosis.

Community Poll
How often do you experience MG exacerbations/flares?